Skeps is a decentralized marketplace for loan leads, connecting loan seekers (like merchants sourcing loans for their customers), to underwriters.
Where did we get our name from?
Skeps comes from 'skep', which was used to house bees ever since the 18th century. You might know that a skep enables bees to collaborate for the broader outcome of more honey. Our platform works in much the same way — hence the name, Skeps.
To put it simply, we are an innovative blockchain platform trying to transform the way loans are sourced globally. While our platform takes care of the internal mechanisms, you can concentrate on the other important aspects of your business. So, let's understand what we are doing and why.
Current scenario of the loans market
Imagine your customer wants a loan! What will he do? He will go through the options available in the market, submit the application and wait for it to get approved. He might have to browse through a lot of lenders to check the best rates, but imagine how cumbersome and time-taking it would be? On the other hand, if he doesn't qualify the prerequisites to get a loan, a discomforting experience awaits him. He might have to face rejection from various lenders for multiple reasons. And, it doesn't end there! The saddest part is that the rejection of loan applications hit hard on your customer's credit score. With multiple pulls of his credit report, the credit score goes down. The moment his credit score goes down, the next lender tends to reject his loan application and he'd end up becoming a part of this vicious circle.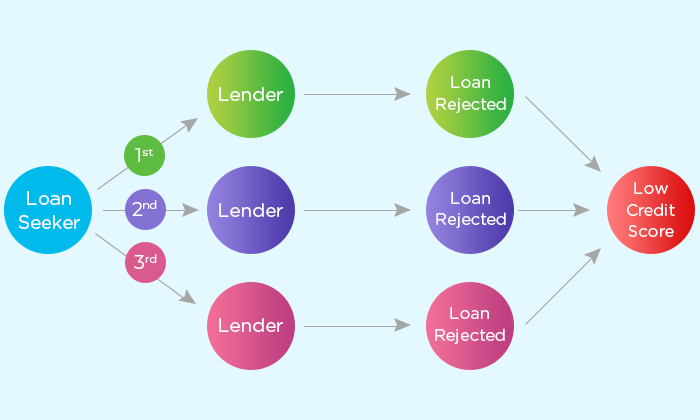 Now, let's see through the lenders' lenses. The lenders are required to thoroughly scrutinize each and every application received, to be able to lend money. In case the application doesn't match their criteria, they ought to reject the application. Now, this action is unpleasant to not only the merchant's customers but also the lenders as it adversely affects their approval rates and customer experience. So, what should be done? How do we help these parties
Skeps — The solution for both borrowers & lenders
Think of a platform that facilitates the connection of borrowers to a whole array of pre-approved financing options where they can choose the best fit with a single credit pull. At the same time, envision merchants happily extending loans to each borrower whilst keeping their borrower data safe. Isn't it a win-win situation for both parties? The borrowers get the money they want and the merchants can have higher application volumes and approval rates.
That's what we do! Skeps is a decentralized marketplace for loan leads, connecting loan seekers (like merchants sourcing loans for their customers), to underwriters. This means better rates and increased access to credit for merchant's customers, and fewer declines for lenders. Our product connects merchant's customers and lenders in a manner, where the data is highly secured and doesn't leave the infrastructure of any of the parties. Isn't it interesting? Want to know more about us?
Keep watching this space to learn more about our product! In case you want to give it a try, request a demo today!