BNPL FinTechs are very well-positioned to enable a growing portion of consumer spending, especially during the holiday season (Black Friday and Cyber Monday).
The biggest shopping carnival of the year—Black Friday to Cyber Monday—is around the corner. Although the COVID-19 pandemic has transformed many aspects of life, however, consumers and retailers are all geared up for the upcoming holiday season. Consumers have moved to online channels, while retailers are working on enhancing their digital capabilities. To put it precisely, we are all in store for a very different holiday shopping season. Before we dive deep into the details of what has and what will change this year, let us talk about some numbers that highlight a massive change.
So, a Deloitte report shows that despite the massive unemployment rate in the U.S. and the worst economic slump since The Great Depression, holiday retail sales are still expected to increase, between a modest 1 percent and 1.5 percent. Early sales projections between November 2020 and January 2021 are expected to be around $1.15 billion. This year, we know customers want to avoid crowds, and therefore digital will play an even more crucial role in 2020's holiday shopping landscape. A record number of shoppers, around 60 percent1— plan to shop online. Deloitte forecasts reveal that e-commerce sales are all set to grow by 25 percent to 35 percent, year over year, during the 2020–2021 holiday season — a leap from the 14.7 percent uptick in online holiday shopping from 2018 to 2019. This season, we can expect e-commerce holiday sales to generate between $182 and $196 million.
All these estimates, coupled with more reasons, have prompted retailers to kick off sales as early as October. Let us see what these reasons might be.
Retailers kicked off sales as early as October
If you look at the data of Cyber Monday from 2019, the sales achieved a record $9.4 billion2 vs. $7.9 billion in 2018, and, in the same period, Black Friday witnessed sales of $7.4 billion vs. $6.2 billion, respectively. That might have prompted retailers to kick off sales as early as October3 in an effort to drive incremental sales volume leading into the holiday season. While retailers have undergone numerous preparations for the traditional holiday shopping season, the disruption done by the pandemic has put things into overdrive. As consumers begin to make their holiday wish lists, retailers have already planned changes to ensure they can deliver for the busy holiday shopping season.
Imports reached an all-time high as retailers stocked up on inventory well ahead of schedule. We have also noticed that some have termed this holiday season shipaggedon. It seems retailers have planned for an extended shopping season. Around 69 percent of retail respondents surveyed by the National Retail Federation expected consumers to start their shopping in October this holiday season, and they were ready to meet this demand with seasonal inventory and promotions.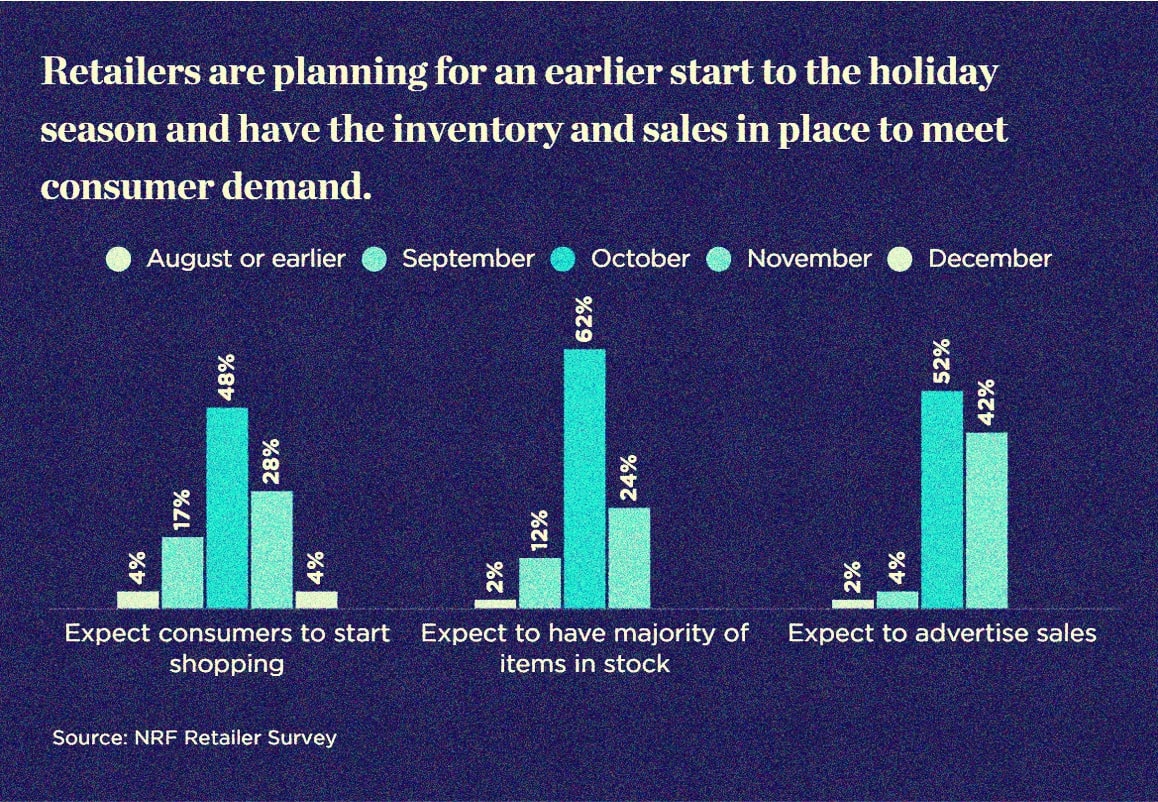 Also, for many retailers, this holiday season is vital as they are relying on Q4 to recoup losses and maintain 2020 sales targets. Also, their holiday season's performance will serve as a litmus test for digital experiences moving forward. As 47% of global consumers4 are interested in shopping online for the holidays this year compared to last year, getting ahead of the curve becomes even more crucial.
Aside from all this, in a global economic downturn, it will be interesting to observe how retailers live up to consumers' expectations, especially as they shift from offline to online shopping.
Retailers need to enhance the customer experience
As e-commerce demand and competition continue to rise, retailers need to be on top of customer experience to lure consumers to their stores for their holiday shopping. From seamless payment methods to the availability and delivery of stock, everything needs to be on point. In a scenario where holiday spending is expected to fall, given the dampened mood caused by the pandemic and resulting recession and job losses, retailers need to look into the source of funds that will be used to pay for holiday spending and open multiple payment options for the consumers.
In terms of overall payments, the top positions were occupied by debit cards (35.7 percent) and credit cards (31.8 percent).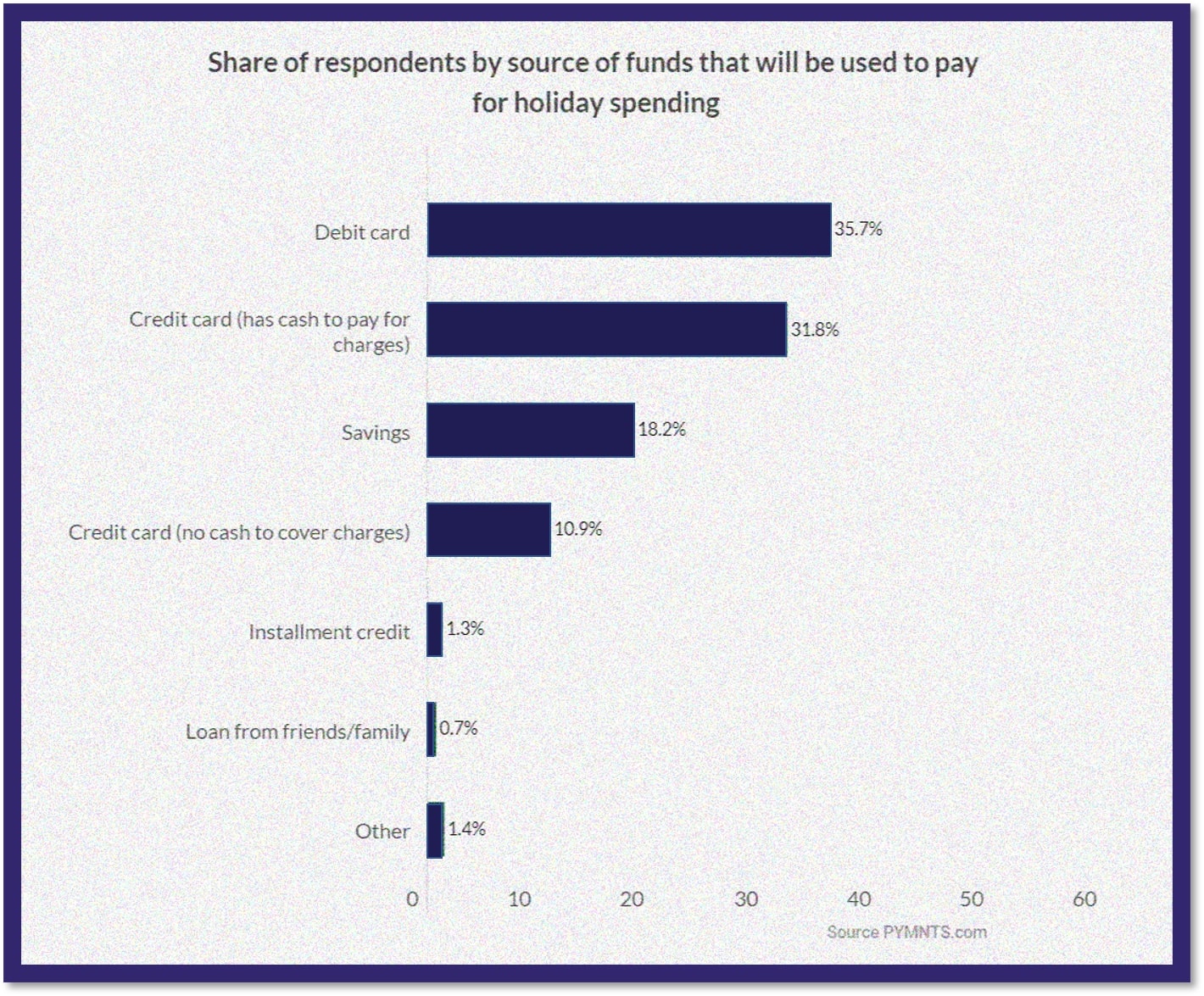 "Consumer demand right now is for responsible credit options," said PayPal's Executive VP of Global Sales, Peggy Alford. "For them, buy now pay later (BNPL) [is] more than just credit – it's the flexibility of payment. In these economically uncertain times, the desire for many people — especially our young folks — is to not go into debt, or risk it, but they do need spending flexibility."
For example, PayPal data says, 1 in 3 retailers are implementing cashless options in their stores, and retailers need to oblige and offer various payment options for a seamless experience. Used in more than 70% of all consumer transactions5 globally, local cards, e-wallets, bank transfers, and cash-based digital payments are the dominant payment methods. But, in a post-COVID scenario where consumers are experiencing a money crunch, retailers that enable payment flexibility will prepare themselves for lasting success, ensuring they are on the right side of this industry transformation.
This holiday season seems to be serving as an e-commerce strategy template for years to follow. Retail is at a crossroads, and the impacts in the next few months will help chart the path for the future. The next few months will accelerate a digital arms race for retailers looking to develop the best possible e-commerce experiences for consumers.
FinTechs well-positioned to drive holiday sales in 2020
While the pandemic is upending the status quo for many consumers, retailers, and lenders alike, one segment of FinTechs continues to witness growth amidst market uncertainty. As consumers and retailers are rapidly adopting BNPL financing options, it could be critical to sales this holiday season, for it seems to help offset some of the economic impacts of the pandemic.
BNPL FinTechs are very well-positioned to enable a growing portion of consumer spending, especially during the holiday season (Black Friday and Cyber Monday). Consumers who are new to credit are adopting BNPL services. After raising substantial funding in 2020, BNPL FinTechs can give consumers the gift of greater financial health post-pandemic.
This year, BNPL FinTechs fared well, and top players raised substantial capital to respond to growing consumer demand. Meanwhile, other FinTech lenders pulled back on originations and all reduced workforce to preserve operating capital. Also, reports show improved customer conversion rates and higher average order values for retailers offering installment payment options. Some merchants are witnessing a 20% lift in conversion rates and a 60% lift in average order values6. Given the pessimistic outlook for 2020 retail sales, these statistics seem very encouraging.
Having released a new BNPL product recently, PayPal says that more flexible payment plans are also going to be critical to securing sales during a period of economic uncertainty. It also says 45 percent of merchants who already offer BNPL financing options could see holiday sales grow by at least 5 percent and that 42 percent of retailers say the additional payment option has combated shopping cart abandonment.
1 NRF: Holiday 2020 shopping starts now
2 Statista: Thanksgiving weekend e-commerce sales
3 CNBC: Black friday is over: Here's why retailers are touting weeks of deals
4 PPRO: Payment Service Providers
5 Salesforce: 2020 retail holiday guide
6 Fiserv: Retailers meet customer demand buy now pay later installment