This blog is the first in a series about point-of-sale or pos financing, discussing its history and how has it grown in popularity.
So a lot of stories have been doing the rounds recently about the partnership between Shopify and Affirm and, we have also written about this deal in our previous article.
This much-talked-about deal from the POS financing space got us intrigued, and we thought of looking through the pages of history to explore the hows, whys, and whats of the POS financing world.
First things first — let's find out how did it all start.
So the story goes this way.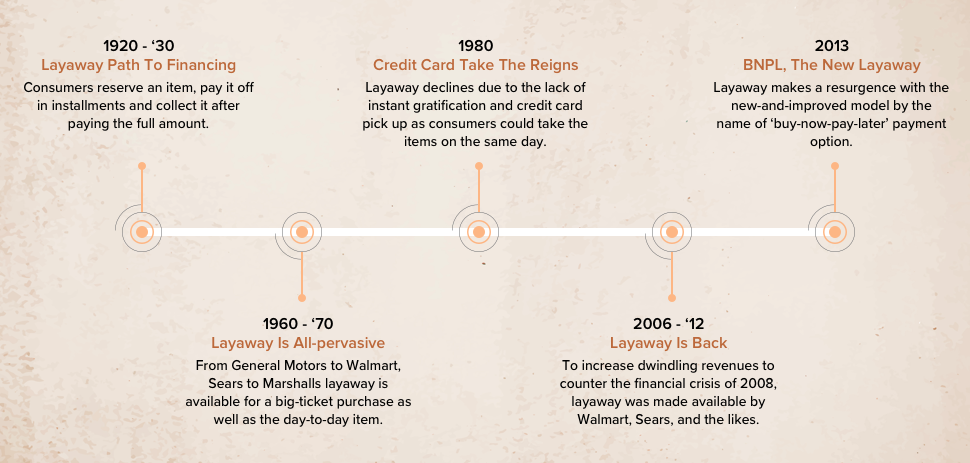 The 1920s – '30s – Layaway path to financing
POS financing dates to the period of The Great Depression1 when layaway plans were a staple of installment lending. Unemployment had hit unprecedented highs, peaking at 24.75% in 19332. Money was scarce. Also, consumers could barely afford everyday necessities, let alone big-ticket items. Retailers, aware of this cash crunch, came up with a revolutionary idea.
Imagine reserving an item, paying it off over a number of months, and collecting it once you had settled the purchase price in full?
The idea caught on, and layaway was born. Layaway was born out of necessity, but it quickly grew in popularity and with good reasons.
Layaway was a win-win for retailers. It allowed customers to make payments in installments and pick up the items when they completed paying the purchase amount in full. Also, if someone stopped making payments, they could easily add the item back to their active stock list. It was a low-risk transaction for the retailer.
From a consumer perspective, layaway made it easier to purchase luxurious items. Consumers no longer had to shell out $100 (equivalent to about $1,494.03 in 2020 money) all at one time. Instead, they could spread the cost through monthly installments. Also, while there wasn't a deposit or a service fee so, no interest was charged in the process and, if customers couldn't keep up with payments, they could often get their money back less a small fee that covered storage costs.
The 1960s – Layaway becomes all-pervasive
Credit was mainly provided by nonbank lenders or finance companies, which were earlier financing purchases of income-earning durable goods. But then automobile companies like General Motors established divisions and subsidiaries designed to finance purchases of their durable goods.
By the 1960s and 70s3, it was par for the course for consumers, whether it was for a big purchase such as a new home appliance, seasonal expenses like Christmas presents, or even some day-to-day items. From Walmart to Sears, T.J. Maxx, Marshalls, and Burlington Coat Factory, layaway quickly became available anywhere and everywhere.
However, the problem with layaway is that while it does a good job of providing for financial control, it lacks that all-important element of instant gratification that generally comes from shopping. That's how credit cards got their advantage. That feeling of satisfaction of having the product in one's hand came with cards.
The 1980s – Credit cards take the reigns
However, since the late '80s, layaway largely fell out of fashion with the emerging ubiquity of credit cards4. As Americans started adopting credit cards, layaway plans started to decline, and its utility started to seem non-existent.
The most obvious reason fueling this decline was the ability of a credit card to allow customers to take their items on the same day. They were allowed to pay for the purchased merchandise over an agreed duration of time. Also, the costs to maintain layaway plans were eating up any potential benefits.
The first credit card5, called Charg-It card, was launched in the US in 1946. But it was in the 1980s that credit card usage exploded. In the interim, IBM engineer Forrest Parry invented the magstripe, which made a payment as simple as swiping your card. Also, banks started removing annual fees and introducing 0% introductory interest rates and rewards in a bid to attract more users.
By contrast, layaway's popularity went downhill. Despite purchases being expensive with the credit cards because of the interest rate, consumers were allured with this instant gratification, which far outweighed the added cost. As a result, layaway disappeared6 during the 1990s and early 2000s.
2008 – Layaway makes a comeback
If the Great Depression gave birth to layaway, the 2008 financial crisis kickstarted its resurgence.
So why did layaway return7?
Market conditions were tight. Credit became scarce as more customers defaulted on their financial obligations. Who doesn't remember the great fall of Lehman Brothers Holdings and the likes becoming bankrupt? With the trembling economy and rising unemployment, there was way too much risk in signing up for debt.
As they say, desperate times call for desperate measures, so, at that time, a lot of retailers resumed offering layaway services. We saw it making a comeback8 at stores like Sears (2008), Toys "R" Us (2009), and Walmart (2011) due to the customers' growing financial difficulties and the need to increase dwindling revenues to counter the debt crisis.
On the one hand, retail sales during the 2008 Christmas shopping season hit 35-year lows, and on the other hand, Kmart bucked the trend, registering better than expected results largely due to its 600,000 layaway customers. Kmart's success encouraged other merchants to bring layaway back.
Walmart, which closed its layaway plans in 2006, re-started it in 2011 and, ten years later, a survey found that 33% of shoppers planned to use layaway to spread the cost of the Christmas season.
During the holiday season in 2012, many other retailers resumed their layaway services. Kmart9, which has been continuously providing layaway in the United States for over 40 years, at one time, it was the only major national discount retailer offering the service. Many retailers such as Walmart, K-mart, Sears, and FlexPay are still offering these services. While layaway may be enjoying an uptick in popularity, there are also bigger forces at play.
Buy-now-pay-later (BNPL) – The new layaway version
Layaway appeals to a very specific type of consumer, observes Terry Rolocek, head of Shop Your Way Financial Services at Sears Holdings Corporation.
One of its distinctive features is the manner in which it enforces spending discipline, which attracts a budget-conscious customer.
But it's not just about the consumers who are looking for affordable ways to buy stuff. Clearly, there's a growing appetite for cheaper financing across the board and it's an appetite that may be satisfied without forgoing the thrill of instant gratification.
Layaway models have made a resurgence, but with a big difference.
The retailer gets paid right away, and the shopper gets their purchase right away. You may ask, "But, how is that any different from a credit card?". That's a valid question.
What happens with credit cards is, people buy stuff on their credit cards, and only later do they worry about how they are going to pay for it. But, now that the consumer preference and convenience is given the utmost importance, the layaway option seems to have made a comeback with the new-and-improved model by the name of 'buy-now-pay-later' payment options.
With BNPL, begins a new chapter in the history of POS financing. We will discuss this payment option, how it has grown in popularity, and whether the industry is positioned for continued traction in our next article.
1 Econlib.org – Great Depression
2 u.s.history.com – Unemployment Statistics during the Great Depression
3 pbs.org – Nancy Koehn Interview
4 Time.com – Now You Know: What Was the First Credit Card?
5 Washington Post – The day credit card was born
6 Fee.org – Layaway: Live after Death – Foundation for Economic Education
7 Kiplinger.com – The return of layaway
8 New York Times – Wal-Mart to bring back layaway for holidays
9 CNBC – Layaway Isn't Just for the Holidays Anymore: Kmart Exec