The global blockchain technology revenues will experience huge growth, with the market expected to climb to over $23.3 billion in size by 2023.
The past few years have seen the financial industry undergo drastic technology-led changes. Companies are now looking up to their tech executives to facilitate game-changing innovation, lower costs and improved efficiency. Concurrently, FinTech start-ups with their latest technology such as the blockchain are seeping through and encroaching upon established markets. Also, customers now have their expectations set; they are demanding more value for money, seamless experiences, and better services. Regulators have also started to adopt new technologies.
2020 is said to be a new starting point for innovation and blockchain technology is supposed to play a vital role. Various predictions show that the global blockchain technology revenues will experience huge growth, with the market expected to climb to over $23.3 billion in size by 2023. The financial sector has been one of the quickest to invest in blockchain, with over 60 percent of the technology's market value concentrated in this sector. A Juniper Research has recently found that nearly 6 in 10, which is around 57 percent of the large organizations are either in the process or actively considering deployment of blockchain technology.
Why is blockchain in trend?
Blockchain technology has already passed the test of time and is trusted by more and more organizations. Decentralization, smart contracts, secure user identification, secure registry, smart storage are a few benefits of blockchain technology. It is increasingly integrated into different systems. The distributed registry is capable of conducting transactions safely and in seconds. And, this is what big businesses need. Data collection and storage is another process that is carried out using blockchain. The decentralized network makes it possible to securely exchange information without the interference of a third party. The blockchain is the foundation of all the services, transactions, markets and ecosystems that define today's existence. These advantages translate to effective processes, new business models, and industry transformation.
Wider adoption and growth
In this article, we are going to look at all the Blockchain trends in 2020 that have or are soon to become mainstream in the blockchain-accepted world.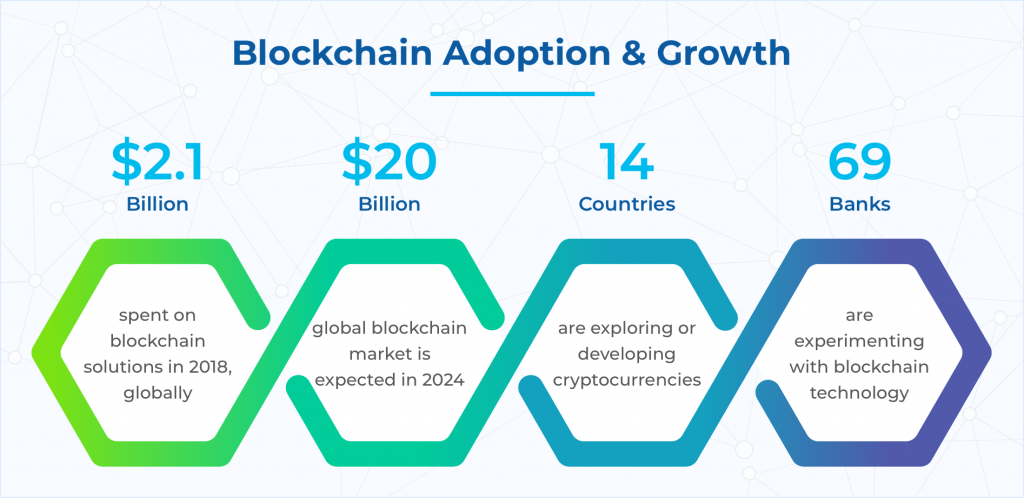 1. Blockchain as a Service
Blockchain as a Service (BaaS) is an offering that allows customers to leverage cloud-based solutions to using smart contracts, hosting, building, and several other functions. The cloud service provider supports all sorts of operations to keep the infrastructure functional and responsive. This interesting development is aiding the blockchain adoption across a spectrum of businesses. One of the major factors increasing the adoption of the BaaS market is that it allows organizations to focus on their core jobs instead of wasting time in setting up infrastructure facilities.
2. Interoperability
The future of the decentralized internet relies on the flexibility of blockchain networks to acknowledge and interact with each other. The concept of decentralization and blockchain interoperability are closely connected. Interoperability is the ability to freely share data across all blockchain networks. In an interoperable ecosystem, if a user from another blockchain sends you something on your blockchain, you will be able to recognize and interact with it. Soon, different blockchain systems will be able to communicate with one another; without the need for a mediator.
3. Federated blockchain
Blockchain consortium or federated blockchain falls under the private blockchain umbrella. Private blockchains are invitation-only decentralized ledger system governed by a single entity. It allows organizations to employ distributed ledger technology without making the data public. In a federated blockchain, multiple entities will be able to use the network and re-establish a decentralized type system. This way any consumer will be able to fast forward any kind of work that requires multiple organizations.
4. Blockchain meets the Internet of Things
The Internet of Things is one of the most evolving trends of the 21st century. IoT devices are equipped with special sensors to synchronize actions, regardless of the user's location. This implies a permanent connection to the network, which increases security requirements. Blockchain technology can offer a secure and scalable framework for communication between IoT devices. Moreover, this technology can enable devices to make automated microtransactions. Because of its distributed nature, blockchain can conduct transactions quicker and cheaper. To enable transferring money or data, IoT devices can leverage smart contracts which will be considered as the agreement between the two parties.
5. Digital asset services by financial institutions
The trend that triggered last year is expected to change the way people interact with money, trade on markets, manage their wealth, and invest in assets. The digitalization of value — digital assets — is a growing trend enabled by blockchain. With this technology coming into the picture, existing financial assets will be digitized with the advantage of eliminating intermediaries in their distribution. This will lower transactional costs and also address the issue of counterparty risk.
Blockchain to mature
Blockchain is primarily a business revolution. But its adoption requires a lot of time and effort. However, 2020 will see things moving. The governments all across the world will start using it to improve financial services. Blockchain will encourage people to acquire new skills, while conventional businesses will have to reconsider their processes. Taking everything into consideration, by 2020, we can see more examples of the successful implementation of blockchain technology.
Certain startups have already entered the market. Skeps, a decentralized marketplace for consumer financing facilitates a secure and effective collaboration between lenders and loan seekers through its blockchain. Aiming to transform the current lending process, Skeps private blockchain will be something to watch through 2020.
Want to know more about Skeps? Go through our newly designed About Us page. In case, you want to collaborate, please request a free demo today.