In continuation of the previous article, this article talks about the POS financing industry and the different models that exist.
The next time when you shop, retailers may offer a new way to pay. Don't be surprised to see an easy loan, line of credit, or a lease as your options! Instead of using cash or a card at checkout, the retailer might ask you to provide some personal information, sorting out your financing then and there. Wouldn't you want to know what changes have made this possible? Let us take you through the story.
POS financing industry – New story of an old solution
POS financing that enables consumers to break payments up into installments surged back into popularity in the years since the recession after fading with the advent of credit cards.
What made it come back?
Firstly, there was a demand for it from consumers who wanted more flexibility than traditional credit purchases allowed. Secondly, Millennials became a part of the consumer credit picture and started adopting POS financing solutions as a viable alternative to credit cards. The jump in point-of-sale financing came as credit card debt declined. As point-of-sale credit went mainstream, lenders started to gain a brighter spotlight, often in the form of investments and partnerships that showed acknowledgment of the model from traditional credit card companies.
Now you may ask – If the POS financing industry is so popular, then who is ruling this space and what are the options available. That is a valid question. Let us answer that. With its growing popularity and demand, the POS financing space is seeing a wave of fintech companies emerge in the past few years. These companies have partnered with thousands of popular retailers, giving them access to millions of shoppers.
The fintech innovators have recognized that merchants and consumers want options, and these options may depend on the type of purchase, geographic region, and consumer demographics. Traditional players exploring the POS financing option have a limited period to enter the market and grow. In a couple of years, they either will be unable to compete, because most retailers will already have financing partners, or will need to invest heavily to get into the market.
Scanning the POS financing industry
Firms moving to POS financing range from mainstream banks to small and large retailers, and from credit card payments companies to e-commerce players. To frame out the POS finance landscape, we need to set out examples of a few disruptive models that demonstrate the range of possibilities in this space.
Installment loan platforms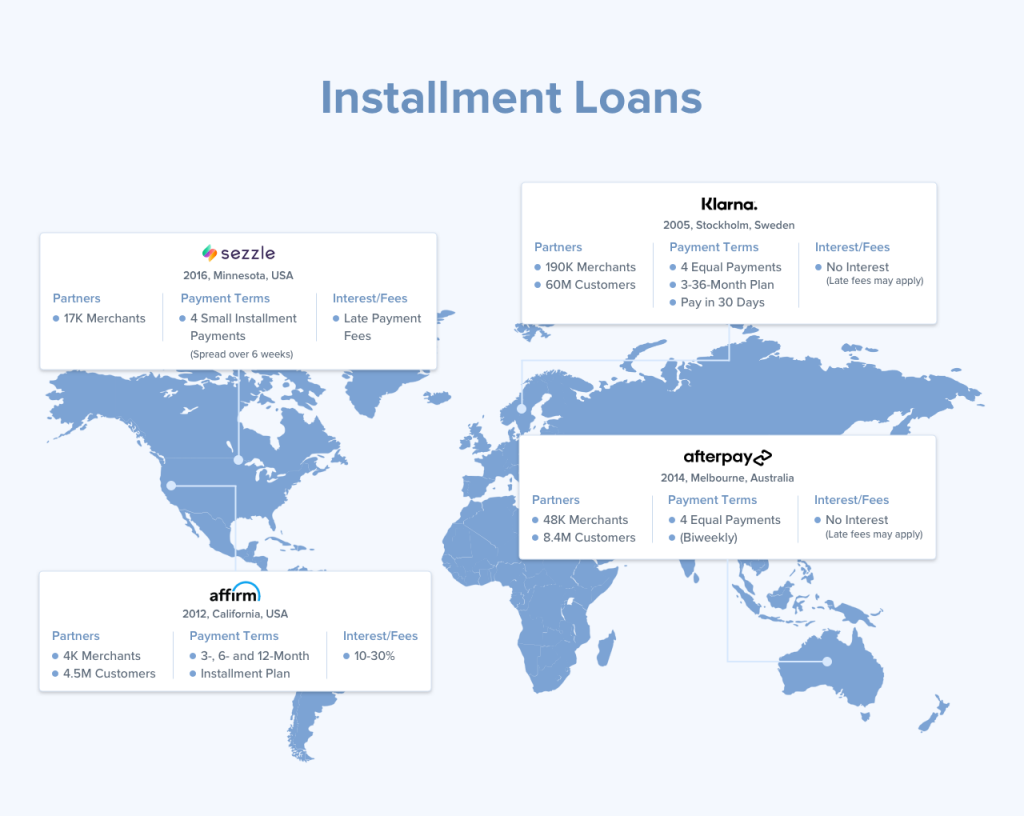 Loans that are repaid with regularly scheduled payments or installments fall under installment loans. Companies like Affirm, Klarna, Afterpay, and Sezzle offer installment loans to consumers on specific purchases at selected retailers. Over time it has seen significant uptake by customers who are looking for a credit alternative to their credit cards.
The process of getting this loan is simple. Customers browse various stores at these websites, choose Affirm, Klarna, Afterpay, or Sezzle at checkout, and pay in monthly installments. Some companies charge interest between 10 percent and 30 percent, and some offer interest-free loans. Also, a fee is applicable in case of late repayment.
Affirm, a San Francisco-based-company has a partnership with over 6000 merchants and serves around 4.5 million consumers. Recently, Affirm entered a deal with Shopify to gain access to about 1.2 million sellers in America. Affirm customers are online and offline shoppers looking for simple fixed-payment loans for financing purchases. These loans come with a three-, six-, and twelve-month plan with an interest rate varying from 10-30 percent.
You might have heard about Snoop Dogg investing in a fintech unicorn – that is Klarna, a Sweden-based company that offers financing solutions. The first one is installment – it allows customers to split their purchase into four equal payments without costing them anything extra. Second is financing – this is for larger purchases that customers want to pay for over a long period ranging from 3-36-month plans. And the third one is the 'Pay in 30 days plan' that allows consumers to try before they buy, for no extra fee. The merchant receives payment upfront, leaving all the risk to Klarna. With over 60 million customers and 190,000 merchants, Klarna has two kinds of customers – E-commerce merchants looking to enhance their website payment options and consumers looking for access to credit when purchasing products online.
Melbourne-based Afterpay allows online and offline shoppers to make purchases and pay for them over four equal fortnightly installments. The only time a customer pays an additional amount is if there is a late payment – it charges a flat $10 late fee per payment and a further late fee of $7 if the payment is not made within 7 days. With its footprints in Australia, New Zealand, the U.S., and the U.K., Afterpay is offered by more than 48,000 retailers and used by 8.4 million customers.
Then there is Sezzle from Minnesota that allows customers to pay for the order through 4 small installment payments, spread over six weeks, rather than paying the full amount at once. Sezzle does not charge interest on these payments. With 17,000 retail partners, Sezzle increases its merchants' sales and shoppers' purchasing power. Once you are ready to check out, you can select Sezzle as a payment method. Then, you will be prompted to create an account with Sezzle and complete your purchase with as little as 25 percent of the total amount. The only fees you might encounter are failed payment fees or rescheduled payment fees.
Multi-lender Platforms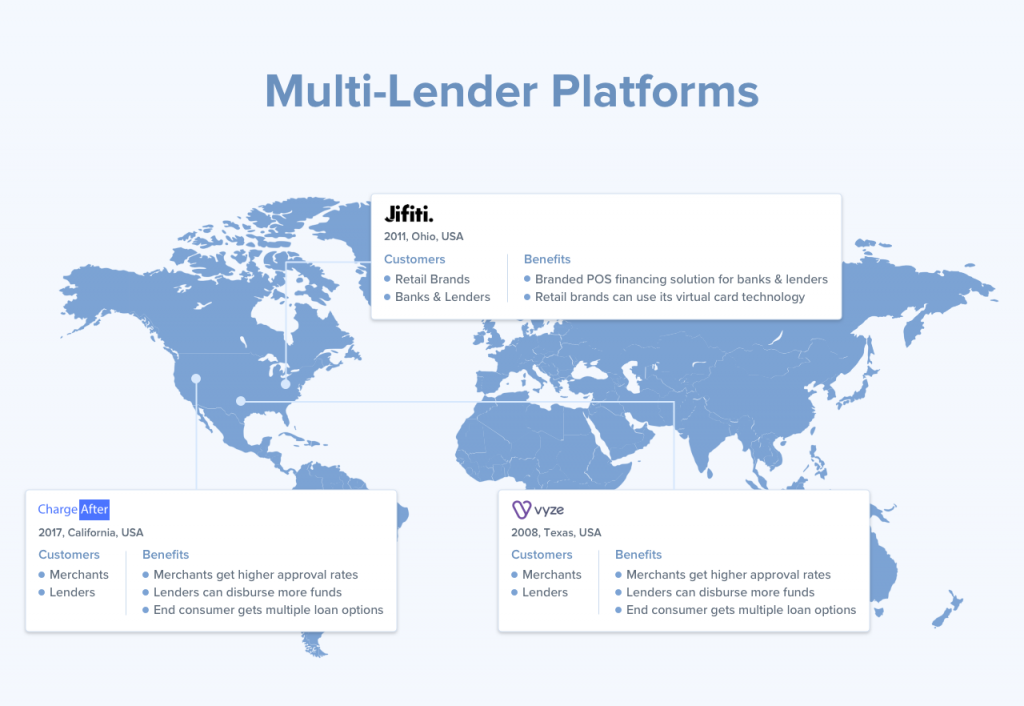 Lenders and banks can lend in online ecosystems that bring multiple lenders to merchants. This avenue offers consumer access with greater control over underwriting. For retailers, it offers higher approval rates with limited integration, and for the end customers, it opens multiple loan options.
Vyze, Jifiti, and ChargeAfter do that.
These companies neither pick between lines of credit and installment payments nor choose a single target demographic range to serve. Rather, they take all the parts of the puzzle and integrate them into single marketplace. Let us see how these companies are so similar and yet so different from each other.
Vyze is an Austin-based platform that connects merchants with multiple lenders, allowing them to offer their customers a wide range of credit options online and in-store. For merchants, it offers higher approval rates, and for lenders, it increases their funds disbursing capacity. While setting up a merchant, Vyze works with them to choose the best lenders for their program and then, based on the customer demographic a customer applies for financing or is offered financing. The customer is sent through Vyze's system and passes through all the lenders and receives an offer from one of them. All this happens in a matter of few seconds.
Vyze is used in 2,000-plus stores in the U.S., and NordicTrack, The Home Depot, and Miracle Ear are among its business partners. To complement its existing card and ACH-based solutions, Mastercard acquired Vyze in 2019 to provide shoppers with additional payment flexibility at the exact moment of purchase.
Jifiti, an emerging fintech company with offices in Columbus, Ohio, and Israel offers an end-to-end solution that works with any existing POS or e-commerce system. It enables banks and lenders, via a single integration to launch a fully branded POS financing solution for any merchant without further integration resources. With its virtual card technology, it is already being used by retail brands and banks across Europe and the U.S., both online and in-store.
Chargeafter, founded in 2017, is a California-based startup that works on a network of lenders and financing partners where customer data is put through a waterfall approach to find the best financing or credit product for the consumer. In a waterfall approach, after a pos financing application is submitted, it is checked against the prime lenders for approval and if declined it moves down to near-prime options for approval. If declined, the application is then shared with the sub-prime lenders for approval. The entire process takes place on the merchant's website without any redirects and takes only seconds.
Financing platforms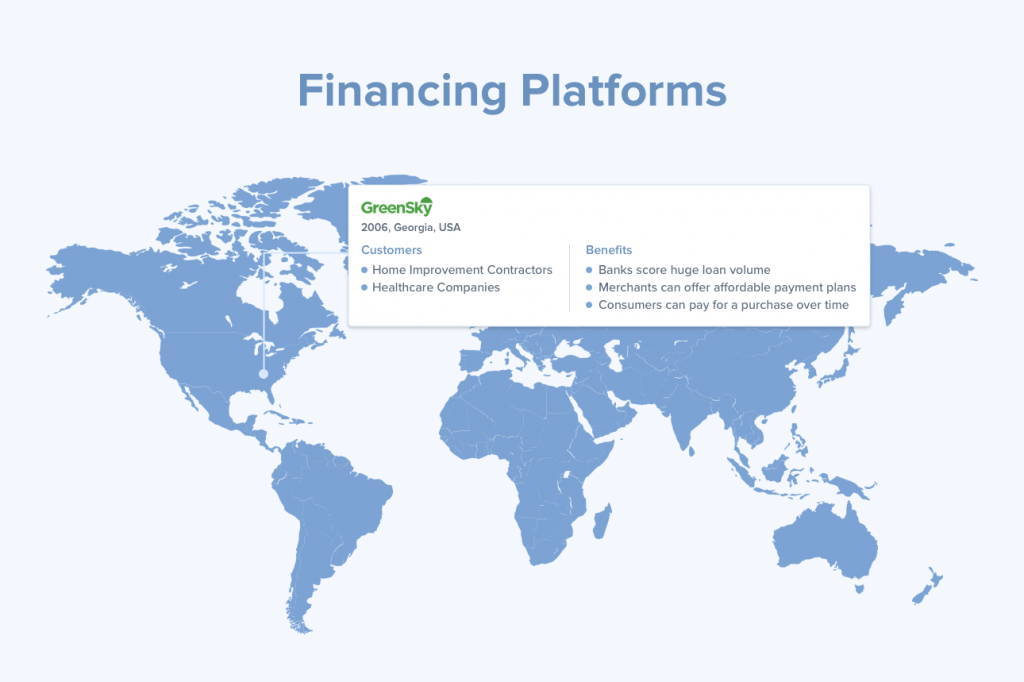 Financing platforms act as a middleman that connects consumer borrowers with banks, collecting a fee in the process. These platforms rely on merchants to bring in loan volume by pitching financing at the point-of-sale.
Atlanta-based Greensky, a financing platform for service providers, namely contractors and home improvement, has been at the forefront of this strategy. The platform lets home improvement companies offer instant loans and lines of credit to their customers. These loans help customers break the purchase into bite-sized payments over 12 months. Basically, it is a win-win for all the stakeholders. Banks score huge loan volume. Merchants get the ability to offer affordable payment plans. Consumers get the flexibility to pay for a purchase over time, potentially without incurring any interest.
Greensky, which went public, raising $874M on the NASDAQ with a $4.3B valuation, today has partnerships with over 18000 merchants in the U.S.
Line of credit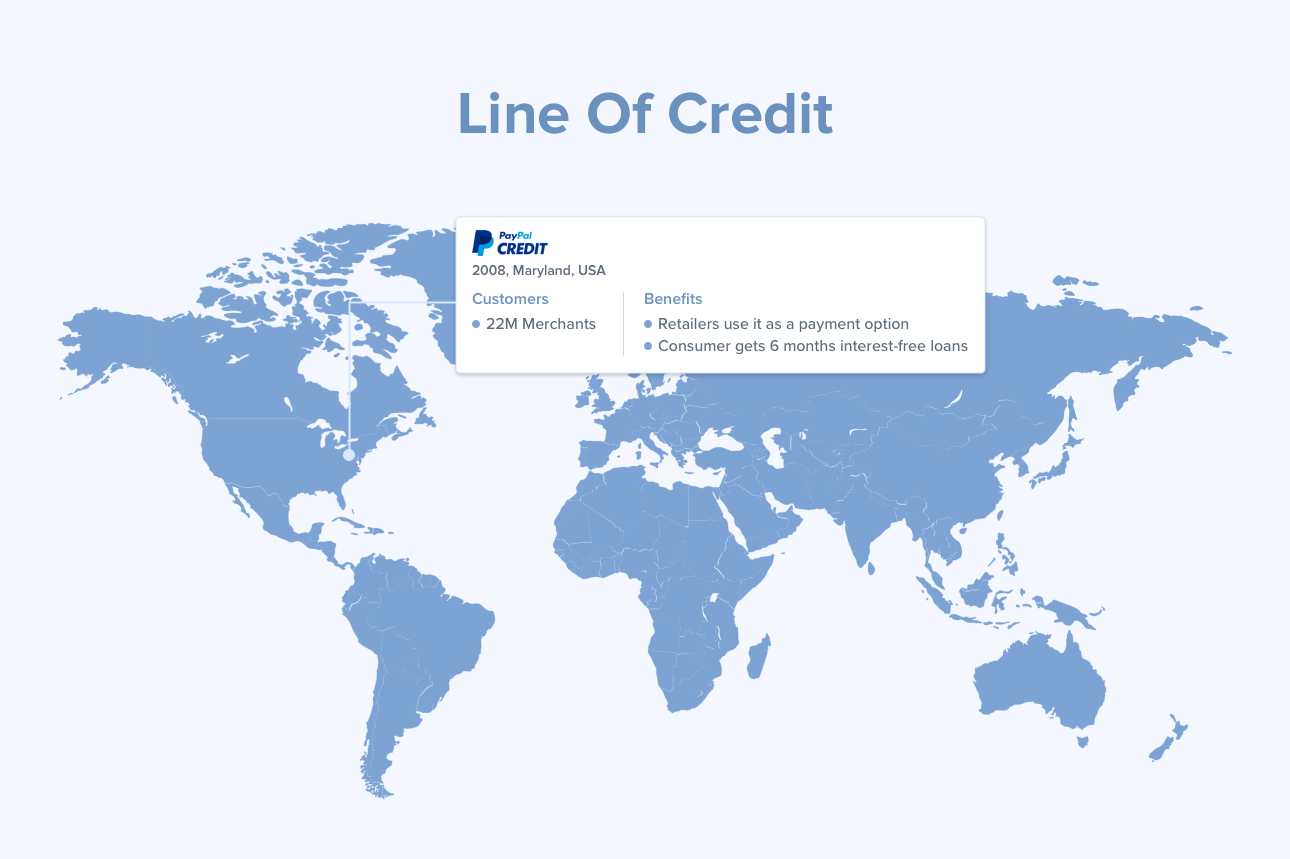 A line of credit is a flexible loan that offers a limited amount of funds – funds that can be accessed as needed, and you need to repay over a prespecified period.
PayPal Credit is a reusable credit line, which you can use at most online retailers that accept PayPal as a payment option. You get six months interest-free loans on purchases of $99+ every time you shop. Unlike Visa and traditional credit cards, Paypal Credit cannot be used in brick-and-mortar stores, and you won't get a physical piece of plastic either. PayPal Credit is 100% online-based. The process to get PayPal credits is simple. You will need to fill out an online application and be subject to instant approval based on your credit history. You will need a PayPal account, which will also automatically link to your PayPal Credit, appearing as a payment option each time, you check out with PayPal.
PayPal Credit (formerly called PayPal Bill Me Later) originally launched in 2008 and rebranded into its current form in 2015, is now available at 22 million merchants that accept PayPal as a payment option.
While POS financing is simple – is it legit for you? Or is it just another product that encourages you to spend more? Well, let us look at the pros and cons of it.
The pros
What makes the POS financing industry attractive is the availability of options that lack credit history checks and the ability to make set monthly payments.
It is a better option for those looking to make big-ticket purchases since you know how long you will be making payments and when you will be debt-free. You will be able to predict your payments every month.
Opening a credit card is a hard inquiry that shows up on your credit report, while point-of-sale financing is just a soft inquiry. This soft inquiry shuns your worry about your credit score going down.
The cons
While POS financing grabs a lot of eyeballs, one of the biggest drawbacks of these loans is the interest rate, which sometimes can be as high as 30 percent.
You need to be clear about any fees associated with your loan. It is imperative to search for the best deal to avoid any surprises like late payment fees and deferred interest.
Last but certainly not least, the options offered by the POS financing industry can be great if you use it correctly. It is useful for those who are new to credit and if you need to make a big purchase. Borrowing rates can be high, so it is best used sparingly — not for impulse or everyday purchases.